The world of cryptocurrencies is rapidly evolving, with North America emerging as a global frontrunner in cryptocurrency adoption. Despite ongoing regulatory uncertainties, the region has exhibited a remarkable strength in the crypto market. That is reinforced by insights from a recent Chainalysis report, shedding light on North America's dominant position in the crypto sphere, particularly in the context of stablecoin activity.
You can get the whole report here.
North America's Crypto Market Dominance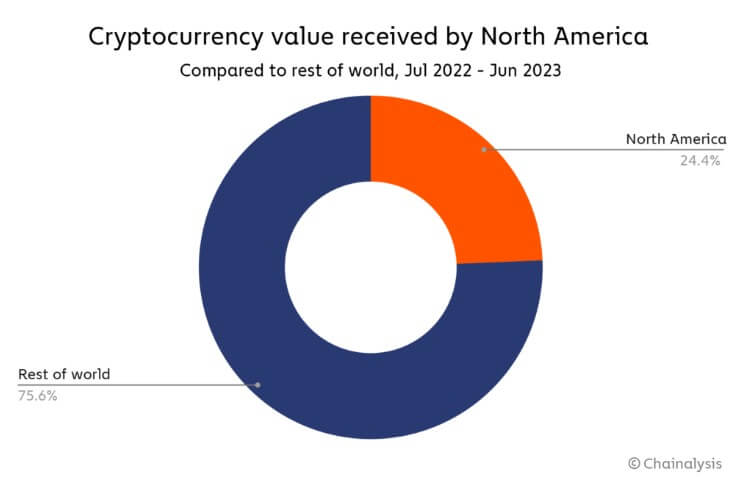 North America is the largest cryptocurrency market on the global stage, with a staggering $1.2 trillion in value received on-chain between July 2022 and June 2023. This substantial figure represents 24.4% of global transaction activity during the study period.
The driving force behind North America's crypto prowess is the United States, which ranks first in the world for cryptocurrency activity. This high ranking underscores the nation's pivotal role in the global crypto landscape. Furthermore, Canada also plays a significant role, securing a place as the seventh-largest contributor to global transaction volume.
You might be interested: BTC Dominance on the Rise as Altcoins Fall
Institutional Activity Takes the Lead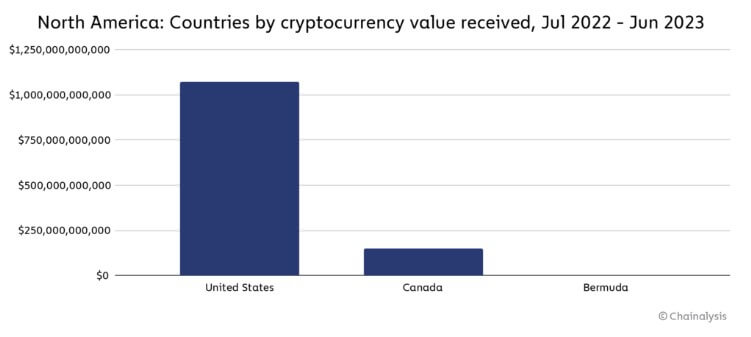 A noteworthy aspect of North America's crypto market is its reliance on institutional activity. An impressive 76.9% of the transaction volume in the region stems from transfers of $1 million or more. That underscores the growing influence of institutions in shaping the cryptocurrency landscape within North America.
Another striking feature is the equitable split between decentralized finance (DeFi) and centralized exchanges in on-chain activity. This balance reflects the diversity of crypto participants in the region, from retail investors exploring DeFi opportunities to institutional players seeking security and reliability on centralized exchanges.
Challenges and Bounces Back
Over the past year, on-chain data indicates that North American crypto activity has experienced fluctuations, reflecting external developments and challenges. Notably, the blowup of FTX in November 2022 significantly impacted crypto activity, leading to a contraction. Interestingly, a more pronounced drop in activity occurred after the March banking crisis, which witnessed the temporary shutdown of Silicon Valley Bank and crypto-friendly banks Signature and Silvergate. A brief dip in USDC's value in secondary markets also exacerbated the situation. However, there are positive signs as on-chain activity recovered from June onwards.
Stablecoin Activity on the Move
Stablecoins have been a pivotal part of the crypto ecosystem, providing stability and utility for users. However, in line with a global trend, North America has seen a relative decline in stablecoin usage compared to other digital assets. This shift commenced around February 2023 and continued through June 2023. During this period, stablecoins' share of North America's on-chain transaction volume declined from 70.3% to 48.8%.
The Regulatory Landscape for Stablecoins
While the decline in stablecoin usage has raised questions, it is crucial to recognize the significance of these assets within the crypto sphere. More than half of all on-chain transaction volume to or from centralized services between June 2022 and July 2023 occurred in stablecoins. Moreover, over 90% of stablecoin activity occurs in stablecoins pegged to the US dollar.
With stablecoins occupying a central role in the crypto market, US regulators have been increasingly concerned about maintaining oversight. Given the vital role of USD-denominated reserves in these assets, regulators are strongly interested in exerting regulatory authority. That is driven by the awareness that crypto assets have been associated with various forms of criminal activities, including those that impact national security, such as funding North Korea's nuclear program.
Conclusion
North America's leading role in the global crypto market is a testament to the region's resilience and innovation in the face of regulatory questions. While stablecoin activity may be undergoing shifts, the dominance of North America in the broader crypto landscape remains unwavering.
As the cryptos ecosystem continues to evolve, it is clear that North America will play a pivotal role in shaping the industry's future. With a strong emphasis on institutional involvement, robust security measures, and a commitment to addressing regulatory concerns, North America's crypto journey is poised for continued growth and influence on the global stage.