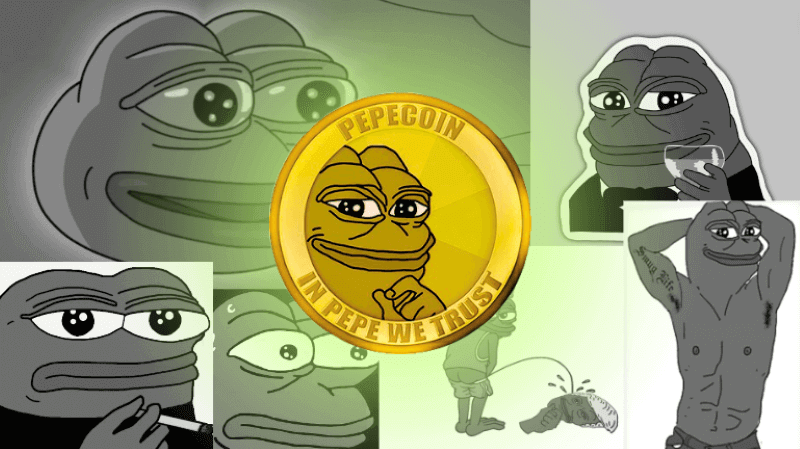 The PEPE cryptocurrency has recently gained a lot of attention, as it is one of the most epic meme coins to enter the market. Even though it carries the same risks as all other cryptocurrencies, many people are bullish on it due to its potential. This one is different from other meme coins… but how? We will analyze right that.
PEPE Cryptocurrency Created by Who and for Why?
The PEPE cryptocurrency is here brought to us by an anonymous group that claims to have no affiliation with Matt Furie, the original creator of the meme.
About the creators
The creators of the coin state that their goal is to create a cryptocurrency project that is accessible, fair, and transparent. The team consisting of over eight people behind is committed to ensuring everyone who participates in the project has an equal chance of success. Furthermore, the team hopes to create a platform that encourages the development of innovative applications and projects that leverage blockchain technology.
Also-o-o, they have 60 years of experience in cryptos, and more than… uh… 100 years in tech, as they say on the official token's site. Good.
The #1 purpose
But, of course, the PEPE cryptocurrency project's motivation to develop this coin is to outclass the dog coins.
This cryptocurrency has the potential to become the premier alternative to the countless dog-centered cryptocurrencies that have flooded the market. It is designed to provide users with something better: a highly accessible, fair, and transparent crypto project with a team dedicated to ensuring everyone participating can attain their most cherished goals.
Moreover, it must create a platform that encourages innovation and the development of projects that leverage blockchain technology. In this way, PEPE can provide users with a cryptocurrency that is truly worth investing in…
And this statement has a clear illustration: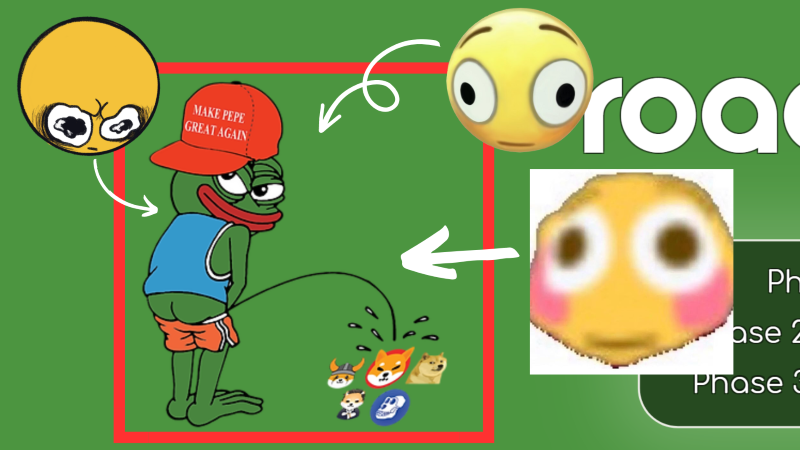 PEPE coin roadmap
The cryptocurrency offers much more than just beating the popular doggy assets. The coin has a roadmap laying out its development's three phases and how it intends to become the premier meme coin. 

Meme's popularization. This phase involves creating an expansive collection of Pepe images and memes, which will be available to anyone who holds tokens. As planned by the project leaders, all that will unfold in the digital social space, meaning that the community will team up on Twitter, Discord, etc.
Pepe Academy will feature exclusive Pepe content, such as art and videos, that can only be accessed by holders of PEPE tokens.
Pepe merchandise. This phase involves creating a range of merchandise, such as t-shirts, mugs, and other items, which feature the iconic image.
Pepe Tools. These tools are still in the early stages of development, and we can only explore them and their potential in the future. For now, there is PEPEAI, a KEKDAQ exchange site in development, and some other tools. Nevertheless, what the whole set will have is unclear for now.
With its expansive collection of images and memes, exclusive content, range of merchandise, and potentially innovative tools, PEPE is poised to become the cryptocurrency of choice for meme lovers everywhere.
But Will the PEPE Coin Become a Valuable One? 

YK
It kinda already has—
Indeed, PEPE is among the exceptions in the cryptocurrency market. Its price has increased greatly despite the collapses that the market has faced. The team has demonstrated its commitment to developing the coin to ensure it is accessible and fair — all of which have contributed to its success.
PEPE price matters
Starting as a super cheap option that costs $0.00000004151, PEPE cryptocurrency now costs $0.000001077. Regarding its other current stats, according to CoinMarketCap:
PEPE market cap — $423,107,921
Fully diluted — $476,865,864
Trading volume (24 hours) — $278,952,392
In circulation — 391,790,000,000,000 PEPE
Max and total supplies are 420,690,000,000,000
PEPE historical data, btw — check here.
Moreover, the PEPE coin has gained significant traction on social media, and the team's plan to develop an expansive collection of memes, exclusive content, and merchandise has generated a lot of interest. These initiatives have been instrumental in driving the price of PEPE upward and making it one of the most sought-after meme coins in the market.
At the same time, though! The coin has been able to sustain its value even in the scary face of market volatility. That is largely due to the team's commitment to developing innovative tools and applications that leverage blockchain technology. Of course, the community plays a MAJOR role here.
… and price manipulations???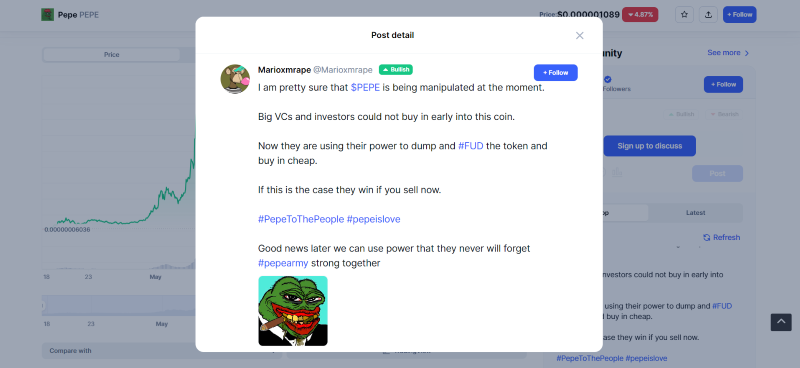 Of course, PEPE's current success might also be tempting for investors who have not bought in at the right time and strive to drag the price down to benefit from cheaper purchases. That is why it is 100% important to monitor the coin's progress and be wary of any sudden drops in value that could be potentially triggered by certain investors trying to profit from manipulating the price.
It is unclear if any mechanisms prevent PEPE price manipulations. And unfortunately, Internet users' 99% anonymous nature does not help gather evidence on people who might theoretically change the coin's value.
The Community Will Carry This Project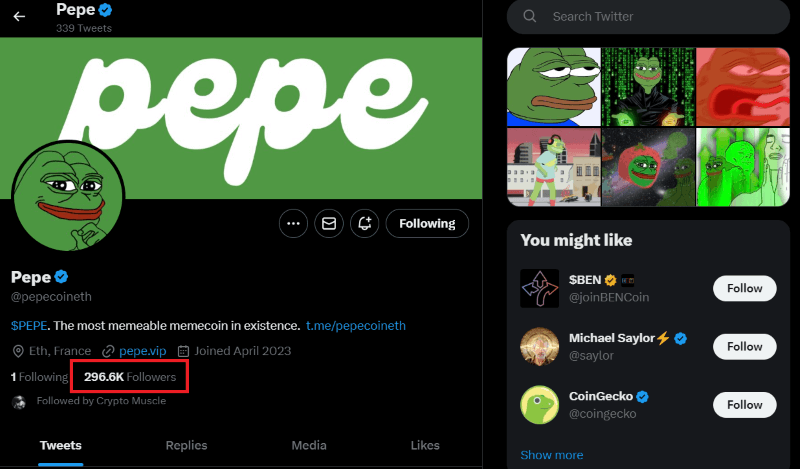 PEPE cryptocurrency is 100% reliant on its community, and it is this community that has made the project successful. Hence, the #1 force driving the project's development and success is the meme enjoyers.
The meme's popularity has been instrumental in driving the project forward. The expansive collection of Pepe images and memes, exclusive Pepe content, range of merchandise, and plans for innovative tools result from the community's enthusiasm.
Is PEPE a Good Investment?
What I will now say is an exception.
Yes, this is a based option. Here is why.
PEPE's low price is one of its greatest appeals. With each PEPE coin currently only costing around $0.000001077, buying thousands of PEPE coins with only ten dollars is possible. That makes it an attractive option for meme enjoyers and enthusiasts looking to make a small investment with the potential for a B-I-G return. A-a-and losing $10 is rarely a catastrophe.
Furthermore, the project has cultural significance, as the Pepe the Frog meme has existed for almost two decades. Not only is PEPE cryptocurrency an entertaining coin, but it is also an asset with a history and meaning behind it, which means that many investors are passionate about it and are more likely to invest in it.
Lastly, the upcoming project implementations can be another fuel dose that attracts more investors. The PEPE coin roadmap includes plans to develop an expansive collection of memes, exclusive content, and merchandise, plus innovative tools. These projects can greatly attract more people to the PEPE coin and increase its value.
In conclusion, PEPE is an attractive and viable investment option with an immense community that continuously supports it. For those looking to make a tiny investment, buying many PEPE coins with just ten dollars can result in a huge return if the token performs well. With its cultural significance and upcoming project implementations, PEPE will likely become the priority choice for many investors.
Still, remember to research! Visit our Crypto Adviser section to see more recommendations and gather additional evidence on various cryptos. You know the drill, the crypto market is always changing, and one must stay up-to-date with the latest news. Furthermore, no investment is a wise one when you do it blindly. Hence, I emphasize the importance of learning more about a coin you favor, regardless of how interesting/good/promising it looks.