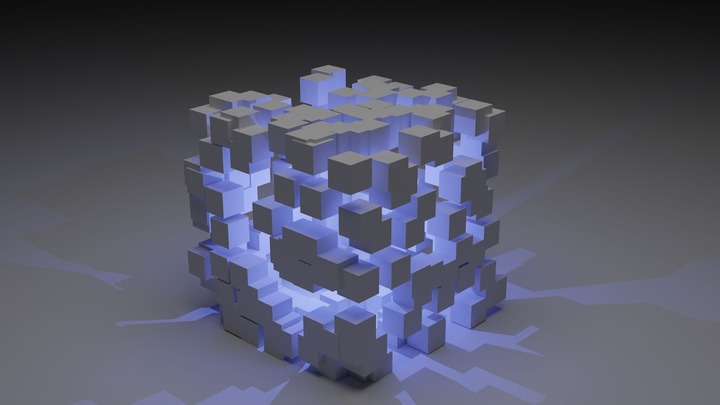 A Few Words About Web 3 Blockchains
To get a better idea of Сardano or Polygon, it is necessary to briefly describe the basics of Web 3, to which both these solutions relate. Web 3 is the new era of the Internet centered on teaching technologies to process data as human intellect does. Web 3 relies heavily on Artificial Intelligence (AI) and blockchain to develop innovative solutions that provide Internet users with appropriate choices. Its four key features are as follows:
It is decentralized.
It relies on trust and does not require permissions.
It actively uses AI and machine learning.
It is ubiquitous.
One aspect of Web 3 that is of special interest to the Cardano VS Polygon comparison is the architecture of the new web era. In a nutshell, Web 3 consists of 4 layers, each of which is responsible for certain tasks:
Layer 0: standardized building blocks such as p2p protocols that underpin layer 1;
Layer 1: core blockchain protocols responsible for distributing data and interaction;
Layer 2: meta-protocols responsible for scaling, computation, and other issues inherent to blockchains;
Layer 3: tools such as code libraries responsible for facilitating the work with core protocols;
Layer 4: browser solutions intended to make it possible and easy for users to interact with Web 3 technology.
As we compare Cardano VS Polygon, one essential difference between the two is that Polygon is a layer-2 solution, while Cardano is a layer-1 blockchain.
Polygon VS Cardano: Key Differences
Here is an overview of the key difference between Polygon and Cardano.
| | | |
| --- | --- | --- |
| | Polygon | Cardano |
| Place in Web 3 tech stack | Layer 2 | Layer 1 |
| Positions itself as | decentralized Ethereum scaling platform | the most environmentally sustainable blockchain protocol |
| Consensus mechanism | Proof of Stake (PoS) | PoS + Ouroboros |
| Cryptocurrency | MATIC | ADA |
Polygon: What It Is And How It Works
What is Polygon, and what is its working principle?
Polygon is a layer-2 solution meant to connect and scale Ethereum projects. With the help of Polygon's technical solutions, such as PoS Bridge and Polygon Protocol, users can smoothly transit from Ethereum to Polygon and enjoy higher speed, lower costs, better security, and flexibility.
Polygon uses a modified PoS consensus mechanism that achieves consensus with every block and not many blocks as the traditional PoS mechanism implies. To validate a transaction, users need to stake Polygon token, Matic. Matic is a reward that encourages users to take the role of validators and participate in developing Polygon's projects.
Polygon: pros and cons
If you are considering which solution — Cardano or Polygon — is the best fit for you, it might be useful to take a closer look at Polygon's major strengths and benefits.
Thus, Polygon's key strengths are
Fast transaction processing: The modified PoS mechanism allows for fast validation of new blocks in the blockchain. Polygons' block time is about 2.1 – 2.3 seconds.
Low transaction fees: Polygon does its best to keep them low, so they normally won't go higher than $0.01.
Plenty of potential use cases: Polygon already boasts 19k+ dApps, including DeFi, NFT, and DAO projects.
Some of Polygon's limitations are
The focus on Ethereum: Polygon is a layer-2 solution rather than an autonomous blockchain. It depends on Ethereum, and it might undermine its value with the full deployment of Ethereum 2.0.
The ambiguous prospects of Matic: Matic CoinMarketCap ranking is #14, and it is unclear how it can improve in the future. The cryptocurrency has issues with decentralization, too. More on it, as well as on Polygon hard fork issues, will be discussed when comparing Matic VS Ada.
Cardano: The Essentials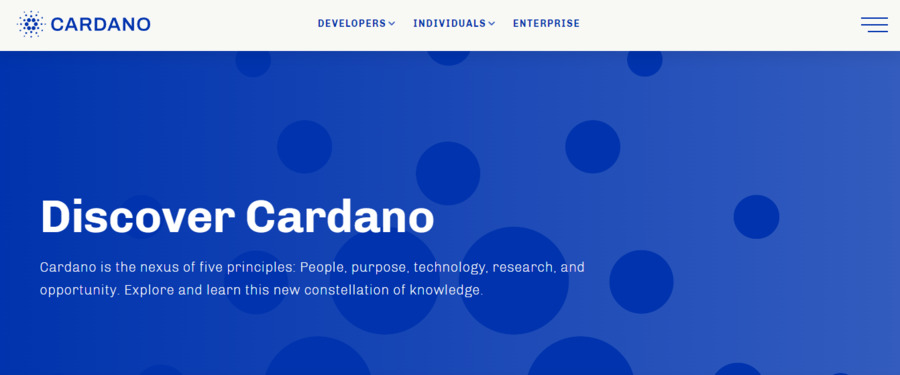 What is the Cardano project, and how does it function?
One central point about the Cardano VS Polygon comparison is that the latter is meant to support Ethereum, whereas the former has been created to replace it. Thus, Cardano is a layer-1 blockchain designed to accommodate a huge range of use cases in multiple industries, from education to agriculture. The blockchain positions itself as the first blockchain 3.0 project that is evidence-based and underpinned by peer-reviewed research.
Before discussing Cardano's pros and cons, it is necessary to say a few words about its unique PoS protocol called Ouroboros. That is a provably secure and energy-efficient protocol, where transactions are verified by dividing the chain into epochs and, further, into time slots. One similarity of Cardano VS Polygon is that the former likewise use its token, ADA, to reward validators. We will discuss ADA in more detail when contrasting Matic VS Cardano.
Cardano: pros and cons
Let us review the key Cardano pros and cons to understand better where the blockchain stands in the Polygon VS Cardano juxtaposition.
Cardano's main advantages are as follows.
Peer-reviewed format: Cardano focuses on its evidence-based design and using knowledge from multiple disciplines.
Great scalability potential: In theory, Cardano's scalability potential is almost unlimited due to a two-tier architecture: a separate tier for settlement and the tier for computations.
Extra security and reliability: Cardano uses the Haskell programming language, the peculiar feature of which is that it requires a great deal of formal verification for greater reliability.
The core downsides to Cardano VS Polygon or its other competitors are
Low TPS: If we juxtapose Polygon VS Cardano, the former already processes over 10k transactions per second, whereas the latter can only handle a couple of hundreds of transactions.
ADA's ambiguous prospects: Although ADA ranks #7 which is twice higher than the Matic CoinMarketCap rating, the centralized supply control undermines its position in the Matic VS Cardano comparison.
Matic VS Ada: Comparing Polygon VS Cardano Tokenomics
An important element of the Cardano VS Polygon comparison is a review of their tokenomics. The table below captures the core differences of the Matic VS Cardano juxtaposition.
| | | |
| --- | --- | --- |
| Matic vs ADA | MATIC (Verified) | ADA (Verified) |
| Created in | 2017 | 2017 |
| Rates as | Matic CoinMarketCap rating is #14 | ADA CoinMarketCap rating is #7 |
| Current price | $0.9 | $0.5 |
| Market cap | $7,293,631,462 | $18,300,514,377 |
| Fully diluted MC | $9,065,696,205 | $24,408,620,615 |
| Max supply | 10,000,000,000 | 45,000,000,000 |
| Total supply | 10,000,000,000 | 34,277,702,082 |
| Token distribution | about 88% of the supply is distributed among top 100 holders | 10% of Cardano whales hold over 90% of the circulating supply |
| Circulating supply | approx. 7B | approx. 33B |
| Historical data | MATIC historical data | ADA historical data |
FAQs
What are Cardano transaction fees?
Cardano transaction fee comprises several components such as transaction size and a fixed payable fee. The fee is tied to Cardano ADA crypto market cost: will Cardano bounce back, the price will go down, and vice versa. The fee is approximately 0.17 ADA.
Will Cardano go back up? How high can ADA Cardano go?
Like most cryptocurrencies, ADA is volatile. Two years after its launch, ADA's price was $1.3, and after a brief Cardano correction, it reached $3.1. In 2022, the price fell sharply. So, ADA is trading at $0.5. It has been moving up for a few months, but no expert can surely tell how high Cardano can go. Some experts suggest Cardano ADA crypto might be overvalued due to the upcoming Cardano hard fork date. 
Why is Polygon going down?
Several factors answer the question, "Why is Polygon going down?" First, Polygon's going down because this is what the rest of the crypto market is doing. Second, Polygon demonstrates slow growth. Bugs and security issues aggravate the latter. Many of us remember a recent bug in which the platform could have lost a huge portion of its tokens and the Polygon hard fork that followed. Luckily, the Polygon fork put a billion tokens risk down shortly.
When is Cardano hard fork date?
Cardano hard fork has been delayed several times already. At present, they say Cardano hard fork date is only a few weeks away. 
Is Cardano a good long-term investment?
There is a wide range of Cardano projects to invest in, and so many people are reasonably wondering if ADA smart contracts will ever get as popular as Ethereum. Without going into details, experts' short-term predictions for Cardana ADA crypto are bearish ($0.4 – $0.5), and the long-term ones are bullish (approx. $2 in 2030). Before making a decision, it might be a good idea to compare ADA's performance with its competitors: ADA VS Solana or Cardano VS Tezos.
Which is better, Cardano or Polygon?
Depending on your goals, Cardano or Polygon can be a good investment. They are both proof of stake solutions designed to improve blockchains' scalability. Both Matic and ADA smart contracts have good potential. Before choosing which platform — Cardano or Polygon — works best for you, consider studying the following aspects: Polygon and Cardano projects to invest in, Polygon and Cardano transaction fees, and Matic VS Cardano ADA crypto.