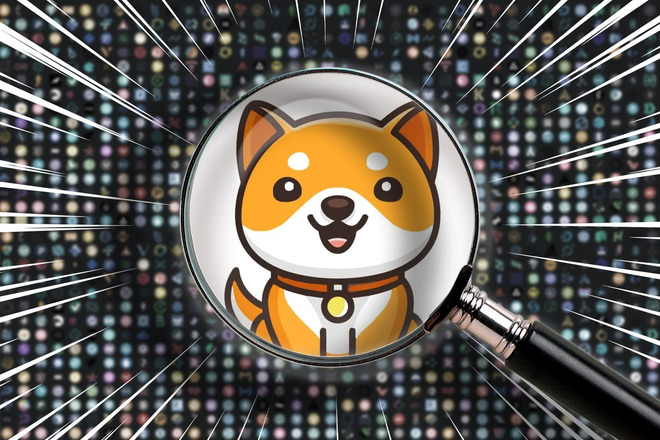 The cryptocurrency realm might appear like something from the Matrix movie. All financial maneuvers (sometimes shenanigans) make this plane look chaotic, unfriendly, and unpredictable. Still, the crypto world is diverse! It has many cute and fun things in parallel with serious talks about how Polygon differs from Solana. And one of the newest and cutest things the crypto universe offers us is Baby Dogecoin crypto asset!
Now Baby Dogecoin's price is small, but it has already rewarded its investors with a nice profit. Yet, Baby Doge crypto coin is volatile… like any other coin that has yet to become traditional (and that still is not a guarantee). Does that stop professional crypto enthusiasts from working on a Baby Dogecoin price prediction up to 2025? No — and let us begin!
The Origin of the Cutest Coin on the Internet: A Brief Backstory
Baby Doge crypto asset came to the scene on June 1st, 2021. That is another meme-inspired asset whose "papa" is the mighty and famous DOGE (that started its journey as a joke, too — here is its story). Nevertheless, Baby Doge crypto cutie has a more serious undertone. The Baby Doge crypto coin whitepaper states that the project exists to help actual dogs. The merchandise store of this asset also aims to contribute to helping the human's fluffy friends.
After twenty-one days from the release of the Baby Doge news boomed with the fact that there were already 100,000+ holders. That number is 1M+ now.
Distinctive Features of the Ecosystem
The mentioned whitepaper discloses more details about the ecosystem of the cutest coin:
Solid community. This project has many vibrant, diverse, and confident supporters.
Earning for having. A fee is attached to every transaction with the Baby Doge crypto coin. It is distributed to all who have already obtained the asset. So, the haver can chill while their wallet gets more crypto.
Locked LP. And you may see LP holders here.
Three Pillars of (Relative) Stability for Baby Doge Crypto
Will Baby Doge go up? The Baby Doge prediction says yes because three influential factors sustain its life. And here they come:
Binance Smart Chain fuel. First and foremost, Baby Doge prediction has positive vibes because there is a solid base. And the DOGE's heir shows faster performance than the older coin offers.
Vast support. The DOGE crypto community is one of the strongest in the cryptocurrency plane. The community includes Elon Musk. Plus, there are significant mentions from celebrities — Snoop Dogg first and foremost. And remember that media representation is the main appreciation attractor that may win over quality. Baby Doge has the representation component doubled.
Excellent design. In our era, the visuals prevail, and the Baby Doge crypto asset has an attractive visual constituent. Moreover, it relates to a golden classics meme that helped Baby's ancestor skyrocket in popularity.
If the token had a fourth pillar, it would look like one of the wisest investments in 2022. Nevertheless, three of those factors suffice to at least consider contributing to this cute yet risky project.
Baby Dogecoin Price Prediction 2022–2025
Will Baby Doge reach 1 cent any time soon? And what the price of Baby Dogecoin will be in 2023? Crypto enthusiasts have analyzed Baby Doge news and data for you. And the materials let us suggest:
Baby Doge price prediction 2022
Minimum: $0.0000000045
Average: $0.0000000062
Maximum: $0.0000000075
Suppose that everything goes with the best results for this precious and adorable coin. Moreover, the community might excite the project and help it rise faster. But even in the worst-case scenario, it is unlikely to drop to the suggested minimum. Moreover, we can see that Baby Doge's crypto historical data shows how it drops by 5.03% and then jumps up by 6.94%. And several recent uprises were +20% in one day in positive streaks. That does not cancel an occasional -17%, but it is tolerable when you know that tomorrow will bring profit.
Baby Doge price prediction 2023
Minimum: $0.0000000077
Average: $0.0000000091
Maximum: $0.000000015
Baby Doge will remain 100% affordable for the newcomers but will also bring better values to the current holders. If the community sustains positive trends, the asset will not be less than it is now, even in the harshest market situation.
Baby Doge price prediction 2024
Minimum: $0.000000021
Average: $0.000000038
Maximum: $0.000000046
We suppose that Baby grows! Slowly, but there will be sustainable boosts and positive results. But that does not cancel an unexpected negative turn that might hinder the growth. Nevertheless, the creators have a solid plan for the next years, and 2024 might be stellar for the asset.
Baby Doge price prediction 2025
Minimum: $0.000000052
Average: $0.000000063
Maximum: $0.000000079
Even the most optimistic Baby Dogecoin prediction will not tell you that the asset will reach non-fractional values. And even though there will be growth, it will be insufficient to make Baby Doge reach 1 cent. But that does not ban the fact that Baby Doge can be a good investment.
But when will Baby Doge reach 1 cent?
That might take decades to make Baby Doge reach 1 cent. Our team cannot see it coming earlier than 2047. 2050 is even likelier.
Is It Wise to Invest in the Baby Doge?
There are no guarantees in the cryptocurrency market. Even strongholds may break when the least expected token shakes everyone. Still, many factors show that the question "Is Baby Doge a good investment?" has a 65% positive answer. And here is the key information that will help you decide:
And those stats are very promising. And remember that you earn Baby Doge for having it in the wallet because of the fee distribution! Even though Baby Doge sometimes loses the race to other projects, it has stable support and activity despite its unstableness. Moreover, it is 100% legit. And still, that is a young and, in addition, a meme-related coin. The latter worked well with the predecessor, but there are zero guarantees that the Wheel of Samsara will turn here.
The Verdict
Will Baby Doge reach 1 cent in ten years? No. In twenty? No. In thirty, then? That is likelier. But even now, it is not the last considered investment for crypto holders who embrace novelties (and memes). The token has a beneficial ecosystem that lets enthusiasts earn with zero actions because of a 5% fee distribution. But it is also visually attractive and has a DOGE nation of supporters. So, even the worst scenarios might not have the power to make this cute asset return to the starting point.