Skey Network is a decentralized finance (DeFi) ecosystem that uses blockchain oracles to connect crypto assets, smart contracts, and other DeFi apps and services. If you are ready for the plunge and investing in the project's cryptocurrency, we will walk you through investing in Smartkey crypto on major exchanges such as Coinbase and KuCoin.
What Exactly Is Smartkey?
Smartkey is Skey Network's coin that was first available for trading on December 29th, 2020. The unique non-fungibility of Network's NFTs is a game-changer when applied to the Internet of Things (IoT).
Each smart object (locker systems, gates, cars) in the network can benefit from the added functionality and have its unique token, providing irrefutable proof of ownership. Skey Network will be the backbone for future smart cities, providing a universal platform for individuals and companies to build their apps.
The coin has a total supply of 1 billion, and it is listed on several crypto exchanges but can't be directly purchased with fiat money. However, it can be easily purchased by first buying Ethereum from any fiat-to-crypto exchanges and then transferring it to an exchange that offers Smartkey trading.
How to Buy Smartkey Coin on Fiat-to-Crypto Exchange
There are a large number of platforms that allow you to purchase BTC and ETH. Still, in the instructions below, we will focus on Coinbase as it is the most user-friendly option for new investors in the cryptocurrency market.
Step 1: Create a Coinbase account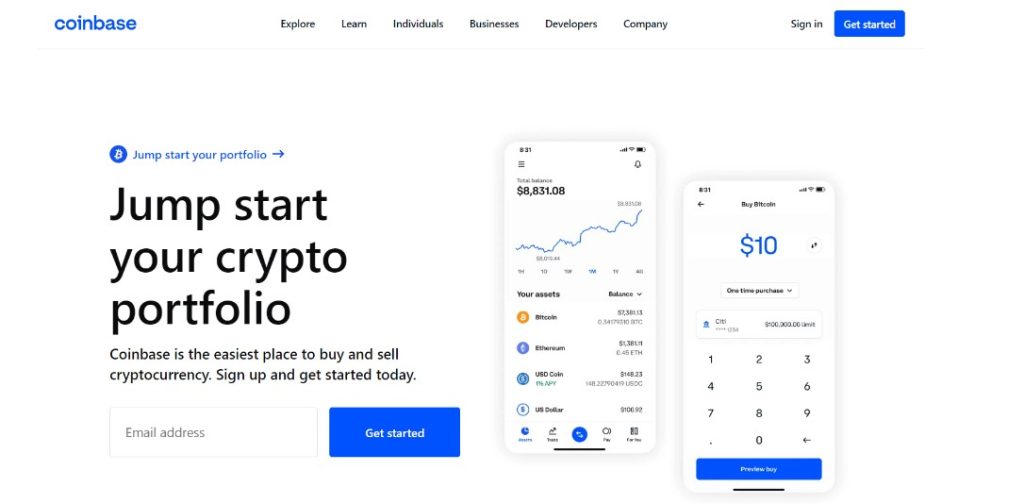 Even though Coinbase has mobile apps for iOS and Android, we recommend using their website for the simplest account creation process. Begin by visiting the Coinbase website and entering your email address in the "get started" box. Ensure that the email you provide is one you have access to and is secure, as this will be your login information.
Choose "INDIVIDUAL" as your account type, and use your real name for account verification purposes.
Verify your email by clicking on the link sent to you by Coinbase. This security step is necessary for funding your account with real money.
Provide your mobile number for two-factor authentication (2FA) setup. That will add an extra layer of security to your account and allow Coinbase to text you for major changes, but rest assured that they will not spam you.
Choose your Payment Method between a bank transfer or credit/debit card. To purchase SmartKey, using the credit card option is recommended as it will allow you to purchase immediately and trade coins immediately. But be aware that fees may vary depending on your card issuer and market volatility. Alternatively, you can opt for a bank transfer, which offers a cheaper option but may take longer to process, depending on your country's residence. For detailed instructions on setting up your credit card or bank account with Coinbase, visit their website.
Step 2: Buy Bitcoin (BTC) or Ethereum (ETH) with fiat money

To acquire SmartKey on most cryptocurrency exchanges, you must have either Ethereum or Bitcoin to trade with. Fortunately, you can easily acquire these digital currencies using Coinbase, which accepts Credit Card and Bank Account payments.
When deciding how much to invest, remember that you do not need to buy a whole coin but a fraction. This flexibility can be beneficial for your future cryptocurrency investments.
Once you've chosen the amount and currency, select your funding source, such as a credit card, and click "BUY." Remember that Coinbase charges a fee for credit card purchases, which will be displayed in the total purchase price before finalizing the transaction.
Step 3: Connect your wallet to an Altcoin Exchange

As Coinbase only supports buying and selling the most-used cryptocurrencies, you will need to transfer your BTC or ETH to an alternate exchange supporting SKEY trading. Currently, SmartKey can be obtained at various reputable cryptocurrency exchanges.
For this, we recommend using the Seychelles-based cryptocurrency exchange "KuCoin," a well-known popular platform with a wide selection of trading pairs. It was launched in September 2017 and boasted 5 million users from more than 200 countries.
Step 4: Transfer your Bitcoin or Ethereum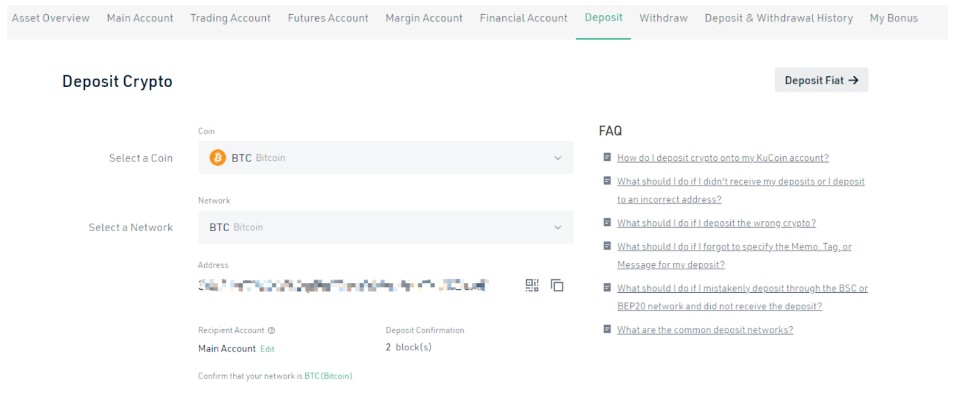 You'll need to transfer your BTC or ETH from Coinbase to your new exchange when your trading account is set up. This process may require an additional KYC verification process, which can take anywhere from 30 minutes to a few days. However, the process is quite simple. Once completed, you will have full access to your wallet.
Most exchanges have a DEPOSIT button next to BTC or ETH, where you can find your wallet ID. If you use ETH, on the right side of the screen, you'll see a string of random numbers labeled "ETH address." That unique public address serves as your ETH wallet on KuCoin. You can receive ETH by providing this address to the person sending you the funds.
NOTE: Bitcoins can only be transferred to Bitcoin wallets, and Ethereum can only be transferred to Ethereum wallets.
To transfer your previously purchased ETH to your KuCoin wallet:
Go to the Transact screen on Coinbase.
Select ETH in the "From" field, enter the amount you wish to send, and in the "To" field, choose "ETH" and click "Preview."
On the next screen, paste the wallet address from your clipboard, but double-check that the addresses match for security purposes.
Upon completing your review, take action by clicking the "Confirm" button to initiate the transfer process. Click on the link provided to confirm your transaction. You will receive a confirmation email immediately.
Head back to KuCoin and navigate to your exchange wallets. Don't be concerned if your deposit is not immediately visible. It is likely still undergoing verification on the blockchain network, and it may take a few minutes for your coins to arrive. KuCoin will notify you as soon as your ETH has been successfully transferred.
Step 5: Trade SmartKey coin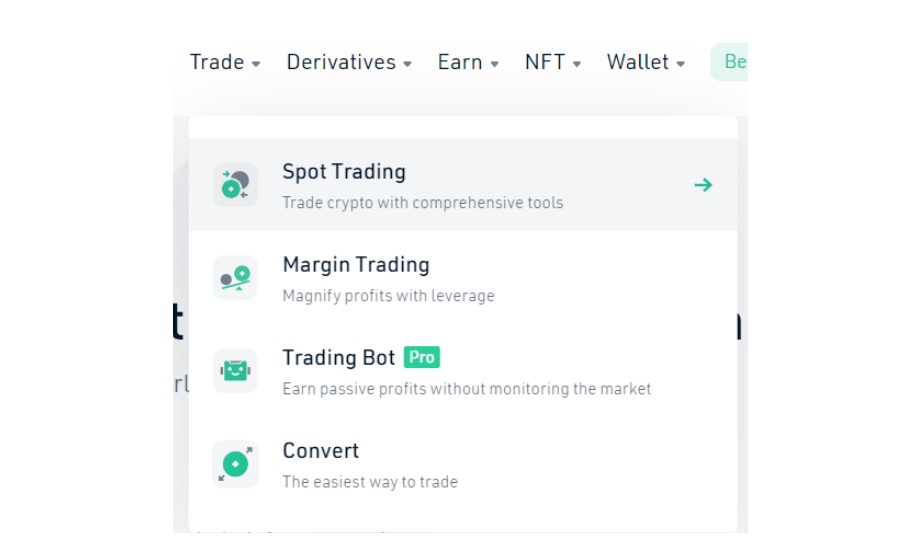 When your transfer has been confirmed, it should show up in your exchange account and be immediately available for purchasing SmartKey.
Select the "Trade — Spot Trading" options on the KuCoin website. In the right column, locate the search bar and look for the SKEY/ETH or SKEY/BTC investment, depending on your currency. Select the pair from the options provided. A price chart will appear in the middle of the screen. The constant fluctuation of figures may be intimidating but remain calm.
In the box below, with the green button labeled "Buy SKEY," choose the "Market" tab, as it is the simplest form of buying an order. You can place a limit order, which allows you to purchase a specific amount of SKEY at a specific price. Also, be aware that the price of SKEY may be displayed in BTC or ETH rather than your local currency.
Once you've completed these steps, you've successfully purchased SmartKey using your Bitcoin or Ethereum investment. Enjoy your new investment!
Where Else Can I Buy Smartkey Crypto?
Besides Coinbase and KuCoin, several highly reputable crypto exchanges boast a vast user base and daily trading volume. It can be platforms like Gate.io, MXC, UpHold, and others.
These exchanges provide a consistent market for selling your coins and tend to have lower fees. It's also a good idea to register on these exchanges since SKEY's listing on them will attract a significant amount of trading volume, providing great trading opportunities.
While each exchange has its unique setup process, most are similarly easy to navigate, similar to Coinbase. Furthermore, since you'll be funding your account, the setup process should be much quicker.
Smartkey Crypto Price Prediction
With a current market capitalization of $ 3,166,438 and a current price of $ 0.01743, SKEY is ranked 1075 on Coinmarketcap and has recently experienced a 28% growth in value since January 12th. However, its All-Time High (ATH) was at $0.5157, which is too far from current levels. A great result, you might think!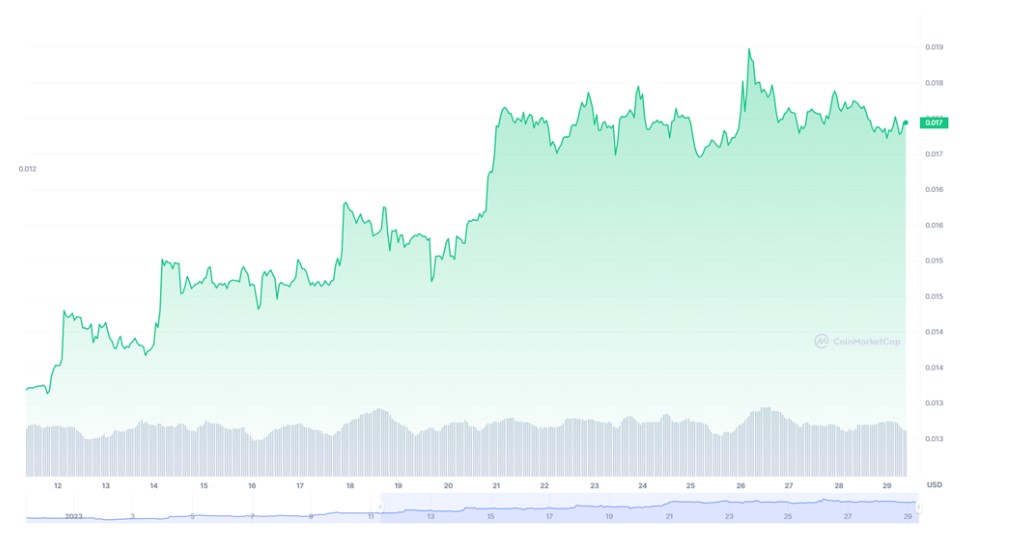 It's important to remember that Smartkey crypto price may rebound if it has a strong team and has delivered on its white paper promises. A bull run tendentious on the overall crypto market can drive SKEY to reach previous ATH as its quite small market capitalization makes it highly susceptible to continued price fluctuations. Therefore, traders must exercise caution and conduct thorough research to determine if a capable development team supports SKEY and if its technology has growth potential.
FAQ
How do I purchase SmartKey using Bitcoin or Ethereum?
To purchase SmartKey using Bitcoin or Ethereum, you need to first transfer your funds to an exchange wallet such as KuCoin. After verifying your address, click the "Confirm" button and select the "Trade — Spot Trading" option on the KuCoin website. In the right column, locate the search bar and look for the SKEY/ETH or SKEY/BTC investment pair, depending on your currency. Select it from the options provided and place a market order to complete your purchase of SmartKey coins.
Does buying SmartKey have any risks?
As with any cryptocurrency investment, buying SmartKey carries some degree of risk. It is important to thoroughly research the project's team and technology before investing. Also, you should be aware that the price of SKEY may fluctuate rapidly due to the highly volatile crypto markets. Therefore, it is crucial to invest only what you can afford to lose.
What exchanges are available for trading SmartKey?
KuCoin and Coinbase are two of the most popular exchanges that offer SKEY/BTC or SKEY/ETH trading pairs. Ultimately, doing your own research before investing in any exchange is important.
What is the price prediction of SmartKey?
The current market capitalization of SKEY stands at $3,166,438, and its current price is $0.01743. However, its All-Time High (ATH) was at $0.5157, so there's still a lot of room for growth in the future. As with any investment, it is vital to conduct thorough research before investing and exercise caution when dealing with volatile markets.