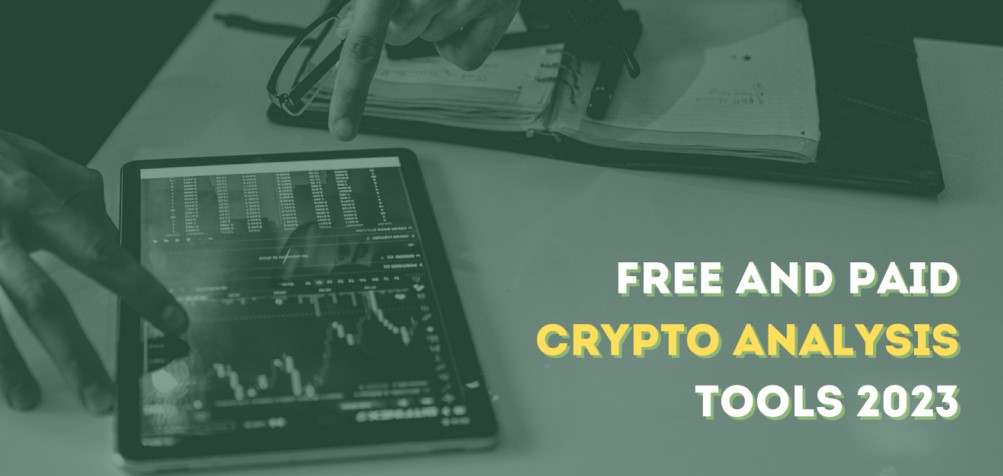 The world of crypto innovation is rapidly expanding and evolving, and staying ahead of the game requires a profound and clear understanding of market trends and data analysis. Thankfully, various tools are available today that can help you save time by automating your analysis process.
But finding a top-notch cryptocurrency analysis tool to navigate the booming crypto trading industry can be a real challenge. This post is here to help crypto enthusiasts find the best cryptocurrency trading analysis platforms that fit their needs.
Introduction 📌
Cryptocurrency markets and their future can be intimidating and unpredictable, making it difficult for investors to take action. Fortunately, several powerful crypto analysis tools are available to investors, traders, and enthusiasts alike.
As digital currency gains widespread adoption, choosing the right platforms to stay ahead of the competition is essential. By leveraging these tools, investors and traders can gain valuable insights into the cryptocurrency market and make informed investment decisions to maximize profit.
Overview of Crypto Tools 🛠
Why use cryptocurrency tools?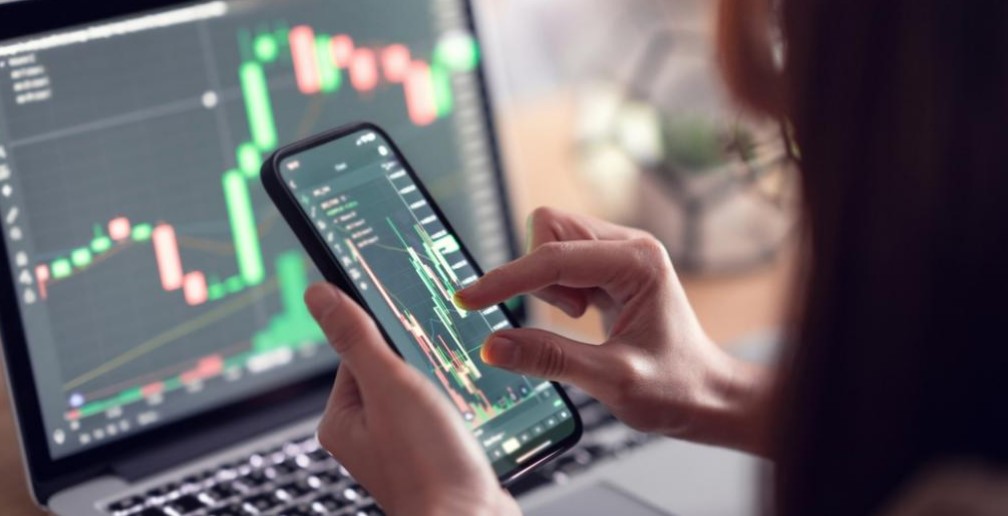 Keeping up to date with current market information is extremely crucial. Experienced traders understand the importance of finding the best crypto analysis tool before making decisions. These platforms allow you to understand how market sentiment can affect the price of a digital token and its volatility.
They can scan markets to identify the best trading opportunities and alert investors with signals. Moreover, some tools even notify investors when new cryptocurrencies enter the market.
Hence, a good crypto coin analysis tool can simplify investment by offering real-time data that helps traders make quick decisions without missing out on potentially profitable opportunities. That is why crypto tools can be a great option for those who want to find the best cryptocurrencies to invest in and the best crypto-index funds.
Types of crypto analysis tools
There are different types of cryptocurrency tools, so investors should be familiar with different analytics services before choosing the best crypto trading instruments.
Charting tools
Investors can identify various investment opportunities by analyzing the patterns formed from past price movements of cryptocurrencies. The best crypto platforms are sites that allow users to visualize market data through charts.
These charts display historical prices and trading volumes plotted against time intervals. Charting tools are also used with technical indicators to speculate on the future direction of assets.
Tools for analytics 
The crypto analytics tool is a broad term that includes different types of instruments. Some tools look at on-chain analytics, transaction information recorded on a blockchain.
In-chain analytics platforms search information on wallet transactions, addresses, transactions, miner rewards, and many other things.
Trading bots 
The best crypto instruments for short-term aims come with automatization, which allows traders to set predetermined conditions under which positions are executed automatically. That means that traders don't have to monitor the market constantly.
Some cryptocurrency trading bots also offer their users the ability to copy other investors' strategies through a general practice, which allows investors to take advantage of the expertise of experienced traders.
Price tracking tools 
Cryptocurrency platforms can also be used to follow the price movement. These instruments inform traders of any sudden changes in the market price of digital assets. The best crypto-trading platforms allow users to set alerts that automatically send notifications if certain price caps are reached. That helps to spot unexpected bullish or bearish moves or trend reversals for investors.
Crypto listings tools 
Cryptocurrency launches provide traders with some of the most profitable opportunities in the market. However, the risk with new cryptocurrencies is high because the underlying operating model must still be fully proven.
To determine the best cryptocurrency presales, investors must consider many factors, such as the whitepaper and the project's credibility. Nevertheless, the best cryptocurrency tools alert users to new coin listings, so they don't miss out on investment opportunities.
The 5 Best Crypto Analysis Platforms
Below, we will explore the benefits and features of the best sought-after crypto analysis tools currently available that offer streamlined market information. 
1️⃣ Glassnode: real-time blockchain and market insights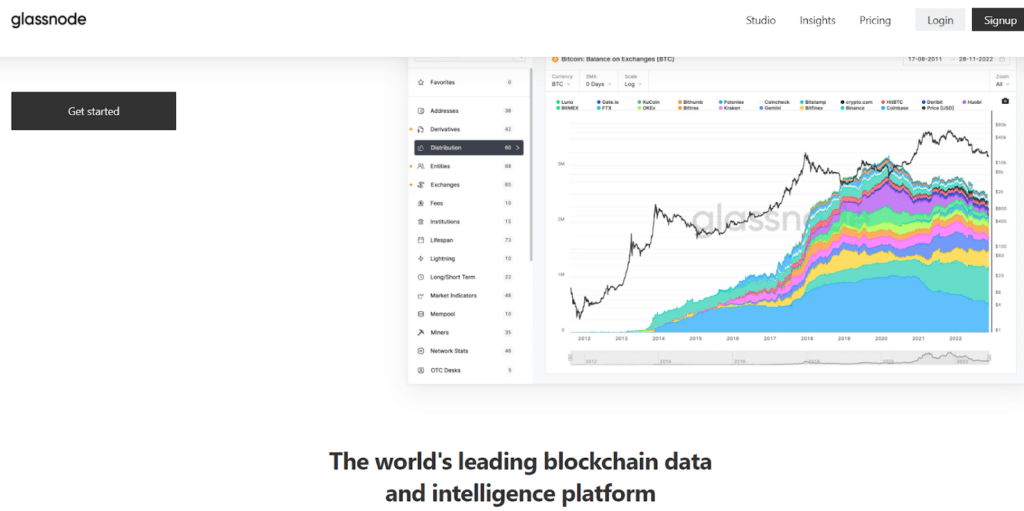 Main features
As cryptocurrencies like Bitcoin continue to gain acceptance among top investors, services like Glassnode will play an ever more important role in shaping traders' investment strategies.
Glassnode is a powerful trading platform that provides its users with real-time data and market insights. It collects data from over 250 different blockchains, giving you an in-depth view of cryptocurrency markets and advanced on-chain analytics.
Glassnode metrics are divided into different levels, each focusing on a specific range of assets, such as BTC, ETH, and LTC, viewed at different resolutions, from the monthly section to the minute section. The metrics cover network activity data, such as open futures interest, mining profitability, transaction fees, new deposits and validators, and block height.
Paid options and for whom the platform is aimed
Glassnode offers various exploring tools to help you track price movements. Users can track price action, set up price alerts, and upload data with technical indicators to their devices from the platform. That makes it ideal for traders looking to stay up-to-date with the latest market trends. In addition to comprehensive data, Glassnode also presents its findings in handy charts and allows for dashboard customization according to individual preferences.
A free Glassnode account provides access to tier-one data, which is updated every 24 hours. Paid subscriptions (29$ popular advanced version and 799$ professional version) provide access to advanced tiers and more commonly updated data not accessible to free account holders.
2️⃣ Messari: research portal for advanced traders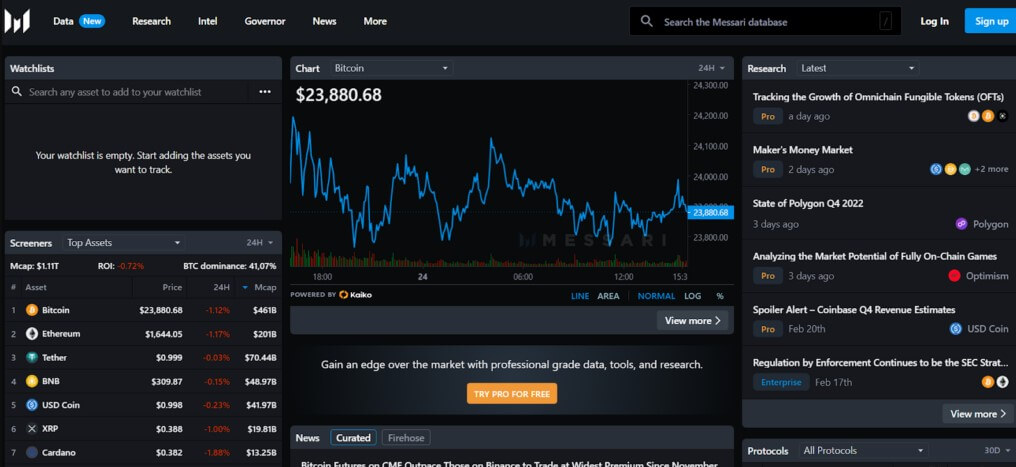 Main features
Messari is an effective tool that provides users with detailed market data: an extensive selection of charting tools, trading volume data, information about coin prices, circulating supply, and other high-quality options for conducting technical analysis on cryptocurrencies.
This crypto market analysis tool combines market data and research reports to provide its users with crucial insights. Its advanced interface offers hundreds of charting tools and allows traders to filter assets and create watchlists for analysis. The platform includes an asset screener, enabling users to track, filter, and analyze assets, and a charts explorer that provides up-to-date, precise data from the cryptocurrency industry.
Furthermore, Messari offers additional research tools that allow users to delve deeper into everything from the most recent NFTs and social tokens to regulatory data, empowering them to make informed investment decisions. 
Paid options and for whom the platform is aimed
The platform may be overwhelming for new traders, but experienced traders will find navigating it seamlessly.
While Messari can be used for free, its core features are limited. The premium version is necessary to access all the tools and services. Messari Pro costs $24.99 a month, is paid annually, and includes advanced screening options, charting, and watchlists. Moreover, the Pro version provides daily insights into market data, comprehensive long-form research, and the ability to download data to a spreadsheet.
3️⃣ CoinMarketCap: comprehensive market data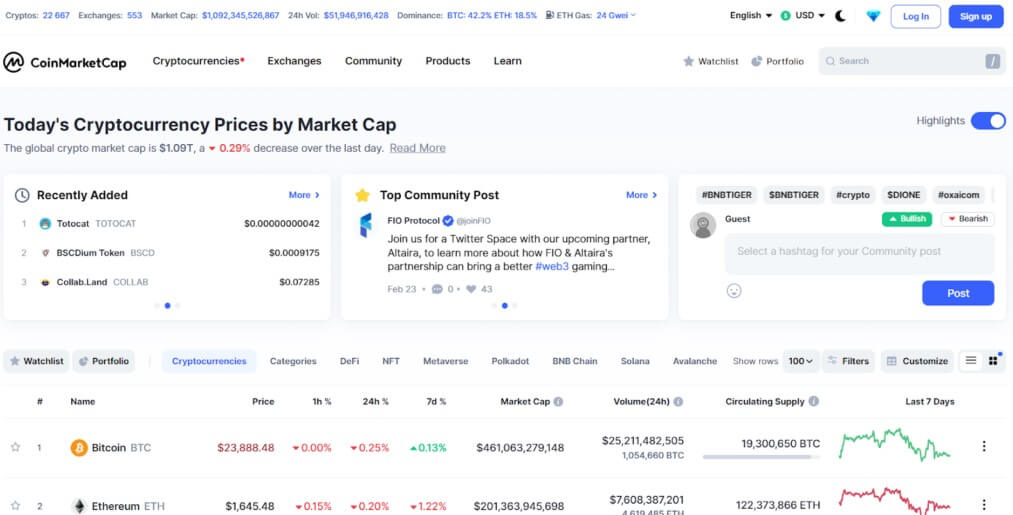 Main features
CoinMarketCap has cemented its reputation as one of today's most trustworthy cryptocurrency platforms. Established in 2013, it is the most widely-used crypto analysis tool on the market and provides comprehensive data about cryptocurrencies, making it capable of tracking a diverse portfolio with ease.
Upon visiting the website, a plethora of information is available. It gives you a detailed and systematized overview of the latest trading volumes, trends, the biggest gainers, recently added coins, market capitalizations, real-time price data, and more.
CoinMarketCap also offers analysis and news and allows users to view various exchanges, including spot exchanges, decentralized finance exchanges, and derivative exchanges. It helps you to keep up to date with the latest non-fungible tokens, view their portfolio, and add coins to the watchlist to track them over time.
Paid options and for whom the platform is aimed
CoinMarketCap is an excellent tool for more experienced traders who want to stay on top of the market. As cryptocurrencies continue to gain mainstream attention, using a tracker like CoinMarketCap is an ideal way to get started in the world of cryptos and crypto investments.
Coinmarketcap caters to crypto enthusiasts and provides up-to-date information on the best NFTs and metaverse projects. Perhaps most importantly, all information on Coinmarketcap is free to access, making it the perfect cryptocurrency analysis tool for free usage.
4️⃣ TradingView: technical charting tools for analyzing price trends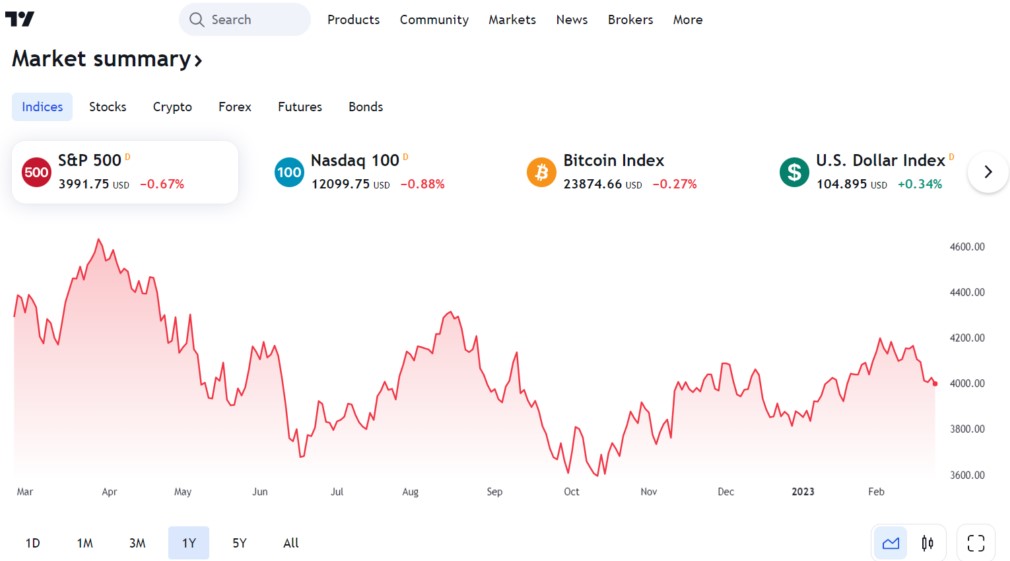 Main features
TradingView is one of the leading analytics platforms and the best crypto chart analysis tool allowing users to track various cryptocurrencies and indicators. It provides powerful charting and technical analysis tools. You can view real-time price data and a wide range of customization options, create custom charts and indicators, and track your portfolio's performance.
The platform has over 100 pre-built technical indicators and is compatible with a wide range of crypto exchanges. TradingView's vast community of users has also built over 100,000 indicators that are accessible to all users. TradingView lets users simulate real market conditions to test their strategies. This feature makes the platform the best tool for crypto technical analysis and allows traders to backtest both ready-made and self-written strategies in real-time based on historical data.
TradingView allows users to set up server-side alerts, including price alerts and alerts on indicators and drawings, which notify them via webhooks, email, push notifications to phone, or SMS. Moreover, TradingView provides its users with daily financial news snapshots.
Paid options and for whom the platform is aimed
A free account offers basic technical analysis tools, including five indicators per chart and 20 server-side alerts, which should suffice for most traders.
While many of TradingView's features are available for free, investing in a paid subscription unlocks the entire range of tools. The pro versions are reasonably priced, ranging from $12.95 to $24.95 per month, and for those looking to screen even more markets, there's a TradingView Premium account for $49.95 per month.
5️⃣ CoinGecko: price comparison and ranking of cryptocurrencies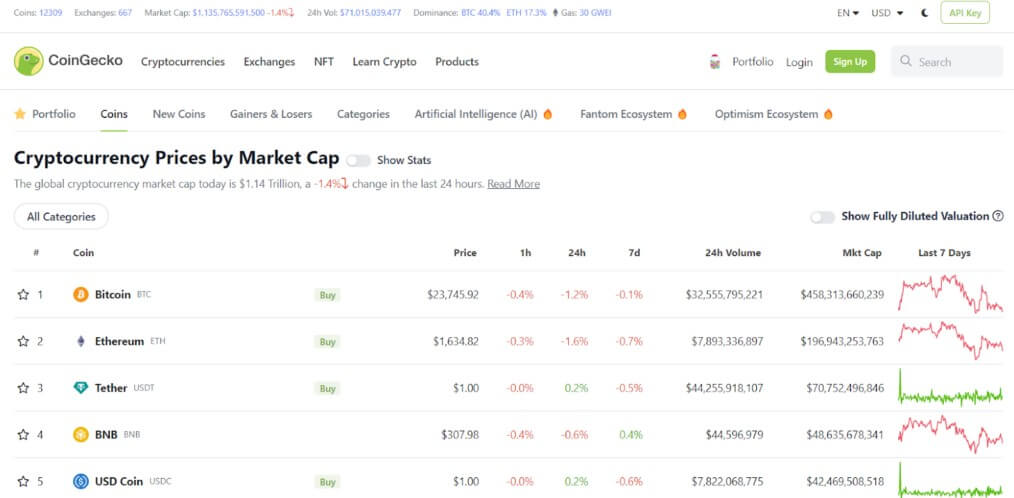 CoinGecko is a popular cryptocurrency portal that aggregates information and tracks crypto prices. It gives you an overview of coin prices and market capitalizations, as well as rankings of different coins based on their performance.
With over 10,000 coins and real-time price changes on 500+ cryptocurrency exchange platforms, CoinGecko offers a wide range of coins to choose from. The tool also displays data about the number of active traders and exchanges trading each coin. That makes it easy to compare different coins and find the most popular ones.
CoinGecko boasts a live community where users communicate on various platforms, including Reddit, Twitter, and Facebook. If you're looking for tips on market events, you're sure to find valuable information from fellow traders. If you are interested in NFT, CoinGecko has a special section on its site as well as a full list of exchanges and tokens.
Paid options and for whom the platform is aimed
CoinGecko offers two paid versions, Premium and Premium+, which cost $49.90 and $99 per year. These subscriptions have more advanced and ad-free features, making tracking your investments and meeting your financial goals easier. Whether you're a seasoned investor with solid plans or just starting, CoinGecko is a must-have tool for anyone who wants to navigate the exciting world of cryptocurrency.
🧵Wrapping Up
The world of cryptos can be complex and fast-moving, but investors and traders can stay ahead of the curve with the right tools and resources. These five crypto analysis platforms highlighted in this article offer extensive up-to-date market data on price movements in the crypto space and a range of insights into the markets to help investors make decisions in this rapidly-evolving industry.
As the crypto market continues to grow and evolve, these analysis platforms will become even more important, making them essential for anyone looking to invest in dynamic cryptocurrencies. Whether you're an experienced trader or just getting started with crypto, these instruments will give you the edge when making smart investment decisions.