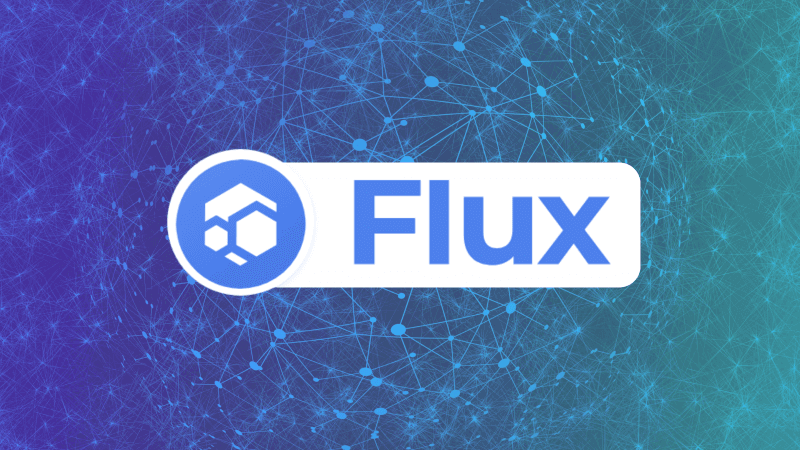 With the cryptocurrency market booming in recent years, many investors have considered cryptocurrencies a possible way to make a significant return on their investments. However, despite the promise of the digital asset class, many of these investments have failed to deliver the good ROI initially envisioned. Up to 80% of cryptocurrencies will fail in the long run, leaving investors with a substantial financial loss. As such, investors need to be cautious when entering the cryptocurrency market and be aware that not all tokens will likely return positively on their investments.
Will the FLUX coin be one of those poor investments? Or is the FLUX coin what you must invest in only to see how it rises? Let us analyze.
What Is FLUX Crypto?
FLUX Crypto is a decentralized and open-source platform that bridges traditional financial networks and the blockchain. It is used to facilitate secure and immutable transactions between users without intermediaries.
Web3
The FLUX coin is the native token of the platform and fuels the ecosystem of a decentralized Internet, commonly known as Web3. Using FLUX coins, users can access numerous decentralized applications and marketplaces within the network. These decentralized applications and marketplaces can create financial instruments, execute transactions, and securely store digital assets.
FLUX coins can also be used to pay for transaction fees on the platform. That helps to ensure that the decentralized applications and marketplaces remain secure and accessible. Additionally, FLUX coins incentivize developers who create new applications or upgrade existing ones. The mentioned guarantees that developers are adequately compensated for their efforts and that the network remains strong and responsive.
The ecosystem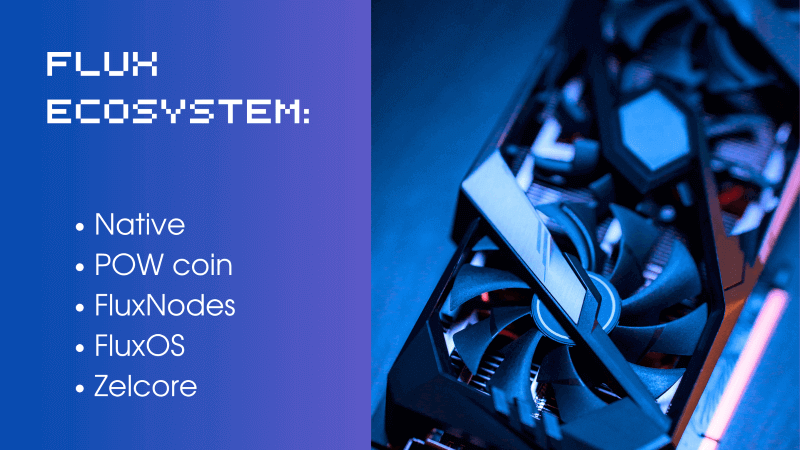 Flux's ecosystem consists of various components, including
Native
Minable POW coin
FluxNodes — 15K decentralized nodes with over 108,000 CPU cores, 288 TB of RAM, and 6.7 petabytes for storage. This network, so far, is among the largest decentralized ones humanity has seen in its entire existence!
FluxOS — the operating system relies on Linux
Flux blockchain
Zelcore — the digital asset hub + Web3 gateway. The Zelcore wallet is multi-asset and one of the best hot cryptocurrency wallets for mobile devices.
Why Is Flux Coin Becoming More Valuable?
It is worth noting that the Flux network currently hosts more than 4,000 decentralized applications (dApps), fundamentally transforming the landscape of transactional interactions between users. These dApps enable users to engage with one another and process transactions without the involvement of intermediaries.
This approach ensures a more secure and transparent user experience and facilitates the creation of profitable decentralized applications. Developers can earn revenue through transaction fees or token sales, while users benefit from reduced costs and expedited processing times. Decentralized applications have emerged as novel and profitable solutions for diverse industries.
In addition, WordPress now runs on Flux's cloud. But there is more usefulness, especially for Academia and students who can also use this system to deploy their dApp projects.
In addition, the number of its supporters and holders grows. According to verified FLUX CoinMarketCap data, over 5K users on this network hold various assets. Just for contrast, the number was 4,749 in March 2023.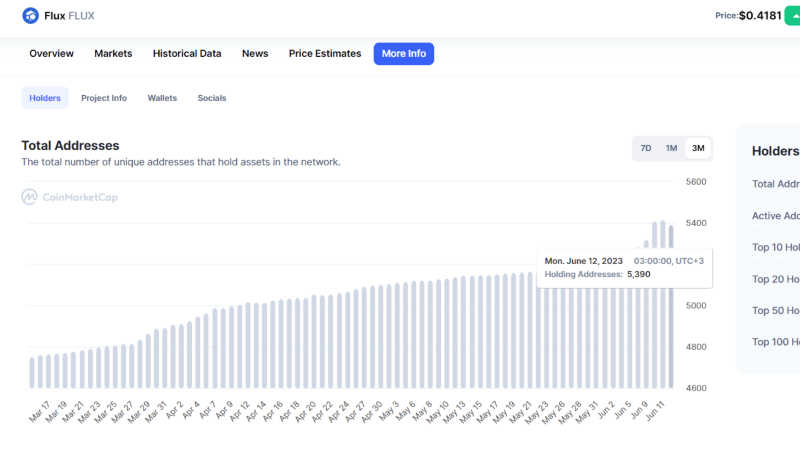 FLUX Price in 2023 and What We May Expect
In 2023, the FLUX price is approximately $0.62, with its current price being $0.4124 and growing back up. Here are the additional statistics we need for a more logical and realistic FLUX price prediction:
Market Cap — $122,757,901
Fully diluted — $179,803,031
Circulating — 297,632,205 FLUX (68%)
Max and Total supplies are 440,000,000
A-a-and you can check its historical data here.
What about its growth dynamics? The FLUX coin price has been one of the steadiest and best performing, despite a drop in 2023.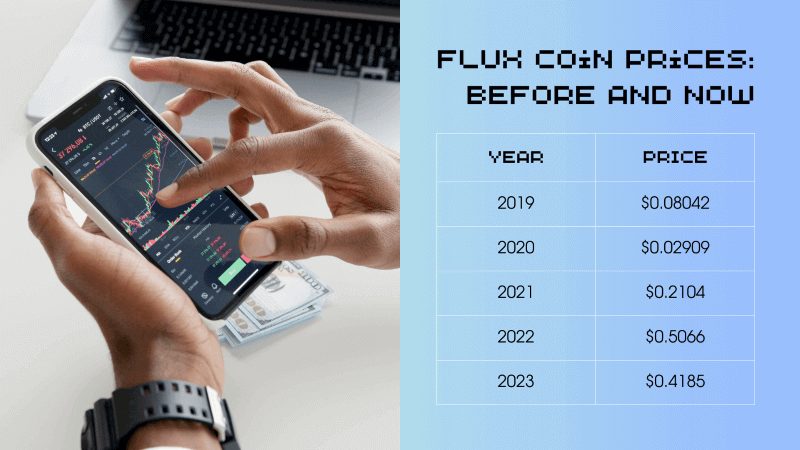 Given that the whole cryptocurrency market has challenges and still needs to recover, no wonder that FLUX prices are lower than the previous year. But what can we expect from this investment in the future?..
FLUX crypto price in 2024
Given that the team keeps us informed and brings innovations, especially in the cloud storage sphere, we may see how FLUX prices return to $0.5 and grow faster. 2024 might be the year when FLUX news crypto tells us that the coin costs over $1. Nevertheless, this will still be far from the coin's all-time high.
FLUX price prediction 2025
The coin might be around $3 in 2025 if no other challenges drop the market to Oblivion. In any case, the team is active, open to communication, and result-bringing. In addition, the community supporting this cryptocurrency continues to develop and use dApps, fueling the system. As people find more benefits in dApps and prefer them over centralized solutions, we will only see how this crypto project becomes more valuable — and so does its coin.
What will happen to it in 2026?
2026 might become the plateau year for FLUX crypto and some other projects. Some worldwide economic challenges might make more people switch to cryptocurrencies entirely, and that process will not go without problems. Still, Web3 and FLUX crypto have everything to sustain great performance. The lowest this currency can get is $1.7, the average must be around $4, and the best scenario is when this crypto investment brings its investors a great ROI by becoming worth $8.
FLUX coin price prediction 2030
The new decade for this project will start with a new all-time high of around $70. The reason for that might be unfortunate as humanity will need innovative solutions to many challenges influencing our existence even now. Yet, poetry aside, the FLUX coin price prediction for 2030 looks optimistic.
Of course, that is only possible if the team continues its responsible work and presents reports that verify its data. So far, the creators have done a great job informing the enthusiasts about those changes in Web3 and novel cloud solutions brought to us by FLUX. There might be a competitor. There might be a system much better than the analyzed one. Still, FLUX has everything to outclass any project that attempts to take its place. As a flagship of decentralized digital communication and an already grown project, it possesses the resources to stay afloat and even skyrocket.
Is FLUX a Good Investment?
I give it 7/10, IMO.
Still.
Remember to research additionally, plan carefully, and analyze the latest news to see if a cryptocurrency investment is good/bad/average.
So far, this crypto investment is among the best in the market. While its price is lower than usual, 2023 might be the best time to purchase FLUX cryptocurrency and hold it for a long period.